Home Page > Picture Archives > Flora of Qatar > Acanthaceae > Avicennia marina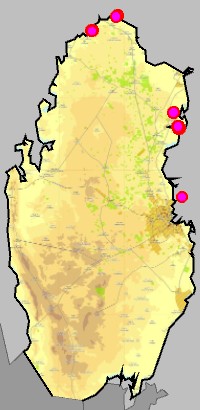 Avicennia marina marina (Forsskál) Vierhapper
Synonyms
Avicennia alba, Avicennia elliptica, Avicennia lanata, Avicennia obovata, Avicennia oepata, Avicennia officinalis, Avicennia spicata, Bontia germinans, Halodendron thouarsii, Racka ovata, Racka torrida, Sceura marina
Common names
Garam, Grey mangrove, qurm, shoura, shourah
Avicennia marina, commonly known as grey mangrove or white mangrove, is a species of mangrove tree classified in the plant family Acanthaceae (formerly in the Verbenaceae or Avicenniaceae). As with other mangroves, it occurs in the intertidal zones of estuarine areas.
Links
Outside links
How the web page was created
Acknowledgements
QNHG (Qatar Natural History Group) and associated people, for a possibility to participate in their field excursions and to learn about local nature.