Home Page > Picture Archives > Flora of Qatar > Rhamnaceae > Ziziphus spina-christi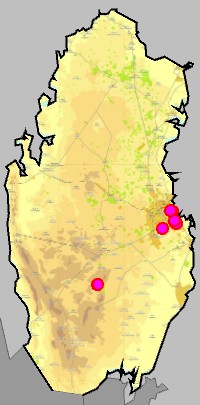 Ziziphus spina-christi (L.) Desf.
Synonyms
Girtanneria spina-christi, Rhamnus divaricata, Rhamnus nabeca, Rhamnus recta, Rhamnus spina-christi, Ziziphus africana, Ziziphus heterogenea, Ziziphus iroensis, Ziziphus napeca, Ziziphus sonorensis, Ziziphus sphaerocarpa, Ziziphus spinosa
Common names
Areen, Christ's Thorn Jujube, Sidra tree
Ziziphus spina-christi, the Christ's Thorn Jujube, is an evergreen tree native to northern and tropical Africa and southern and Western Asia. It grows in Israel in valleys up to an elevation of 500m.[+]
Links
Outside links
How the web page was created
Acknowledgements
QNHG (Qatar Natural History Group) and associated people, for a possibility to participate in their field excursions and to learn about local nature.