Home Page > Picture Archives > Flora of Qatar > Arecaceae > Washingtonia filifera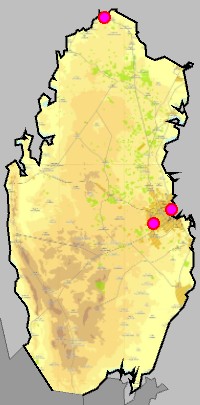 Washingtonia filifera (Rafarin) H.Wendl. ex de Bary
Synonyms
Brahea dulcis, Brahea filamentosa, Brahea filifera, Livistona filamentosa, Neowashingtonia filamentosa, Neowashingtonia filifera, Pritchardia filamentosa, Pritchardia filifera, Washingtonia filamentosa
Common names
Desert fan palm
Washingtonia filifera, also known as desert fan palm, is a flowering plant in the palm family (Arecaceae), and native to the southwestern U.S. and Baja California. Growing to 15–20 m (49–66 ft) tall by 3–6 m (10–20 ft) broad, it is an evergreen monocot with a tree-like growth habit. It has a sturdy columnar trunk and waxy fan-shaped (palmate) leaves.
Links
Outside links
How the web page was created
Acknowledgements
QNHG (Qatar Natural History Group) and associated people, for a possibility to participate in their field excursions and to learn about local nature.