Home Page > Picture Archives > Flora of Qatar > Solanaceae > Solanum nigrum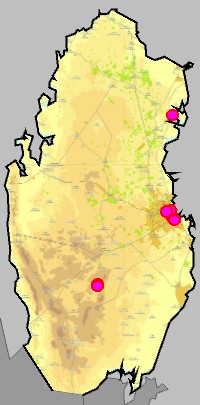 Solanum nigrum L.
Synonyms
Solanum atriplicifolium, Solanum cuneifolium, Solanum decipiens, Solanum dillenii, Solanum humile, Solanum judaicum, Solanum morella, Solanum moschatum, Solanum papilionaceum, Solanum pseudoflavum, Solanum repens, Solanum schultesii, Solanum suffruticosum, Solanum villosum, Solanum vulgare, Solanum vulgatum
Common names
Black nightshade, inab al deeb
Solanum nigrum (European black nightshade or locally just "black nightshade", duscle, garden nightshade, hound's berry, petty morel, wonder berry, small-fruited black nightshade or popolo) is a species in the Solanum genus, native to Eurasia and introduced in the Americas, Australasia and South Africa. Parts of this plant can be highly toxic to livestock and humans, and it's considered a weed. Nonetheless, ripe berries and cooked leaves of edible strains are used as food in some locales; and plant parts are used as a traditional medicine. There is a tendency in literature to incorrectly refer to many of the other "black nightshade" species as "Solanum nigrum".[+]
Links
Outside links
How the web page was created
Acknowledgements
QNHG (Qatar Natural History Group) and associated people, for a possibility to participate in their field excursions and to learn about local nature.