Home Page > Picture Archives > Flora of Qatar > Solanaceae > Solanum lycopersicum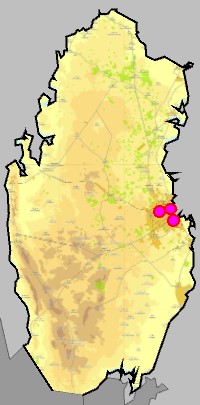 Solanum lycopersicum L.
Synonyms
Lycopersicon cerasiforme, Lycopersicon esculentum, Lycopersicon galenii, Lycopersicon humboldtii, Lycopersicon lycopersicum, Lycopersicon macrophyllum, Lycopersicon philippinarum, Lycopersicon pomumamoris, Lycopersicon pyriforme, Lycopersicon spurium, Solanum humboldtii, Solanum luridum, Solanum pomiferum, Solanum pruniforme, Solanum pseudolycopersicum, Solanum racemigerum, Solanum spurium
Common names
Solanum esculentum, tomato plant
The tomato is the edible, often red fruit/berry of the nightshade Solanum lycopersicum, commonly known as a tomato plant. The species originated in the South American Andes and its use as a food originated in Mexico, and spread throughout the world following the Spanish colonization of the Americas. Its many varieties are now widely grown, sometimes in greenhouses in cooler climates.[+]
Tomato plant (Solanum lycopersicum) growing on Umm Wishad Street in Musheirib area. Doha, Qatar,
April 18, 2014
Umm Wishad Street, Doha, Qatar
Tomato plant (Solanum lycopersicum) with fruits near Al Ghada Street in Al Luqta area. Doha, Qatar,
April 19, 2016
Malik Bin Anas St, Doha, Qatar
Tomato plant (Solanum lycopersicum) with yellow fruits on the median strip of Al Istiqlal Street in Onaiza area. Doha, Qatar,
May 22, 2016
Al Istiqlal St, Doha, Qatar
Links
Outside links
How the web page was created
Acknowledgements
QNHG (Qatar Natural History Group) and associated people, for a possibility to participate in their field excursions and to learn about local nature.