Home Page > Picture Archives > Flora of Qatar > Salvadoraceae > Salvadora persica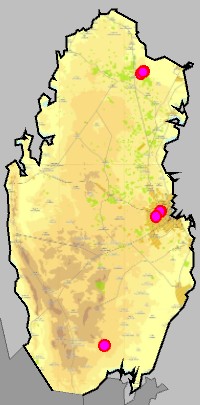 Salvadora persica L.
Synonyms
Embelia grossularia, Pella ribesioides, Rivina paniculata, Salvadora crassinervia, Salvadora paniculata, Salvadora wightii
Common names
Arak, Galenia asiatica, Meswak, mustard bush, mustard tree, Peelu, Pi-lu, Salvadora indica, toothbrush tree
Salvadora persica (Arak, Galenia asiatica, Meswak, Peelu, Pīlu, Salvadora indica, or toothbrush tree, mustard tree, mustard bush), is a species of Salvadora. Salvadora persica has antiurolithiatic properties. Used for centuries as a natural toothbrush, its fibrous branches have been promoted by the World Health Organization for oral hygiene use. Research suggests that it contains a number of medically beneficial properties including abrasives, antiseptics, astringent, detergents, enzyme inhibitors, and fluoride.[+]
Links
Outside links
How the web page was created
Acknowledgements
QNHG (Qatar Natural History Group) and associated people, for a possibility to participate in their field excursions and to learn about local nature.