Home Page > Picture Archives > Flora of Qatar > Fabaceae > Prosopis juliflora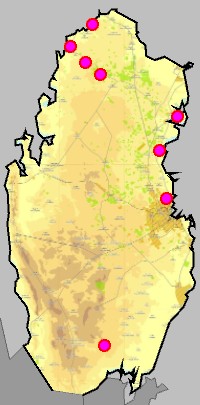 Prosopis juliflora (Sw.)DC.
Synonyms
Acacia cumanensis, Acacia juliflora, Acacia salinarum, Algarobia juliflora, Desmanthus salinarum, Mimosa juliflora, Mimosa piliflora, Mimosa salinarum, Neltuma bakeri, Neltuma juliflora, Neltuma occidenatlis, Neltuma occidentalis, Neltuma pallescens, Prosopis bracteolata, Prosopis cumanensis, Prosopis domingensis, Prosopis dulcis, Prosopis vidaliana
Common names
Al ghaf, ghweif, Ironwood, meskeet, Mesquite, Prosopis chilensis, qwaif
Prosopis juliflora (Spanish: bayahonda blanca) is a shrub or small tree in the Fabaceae family, a kind of mesquite. It is native to Mexico, South America and the Caribbean. It has become established as an invasive weed in Africa, Asia, Australia and elsewhere.
Links
Outside links
How the web page was created
Acknowledgements
QNHG (Qatar Natural History Group) and associated people, for a possibility to participate in their field excursions and to learn about local nature.