Home Page > Picture Archives > Flora of Qatar > Arecaceae > Phoenix dactylifera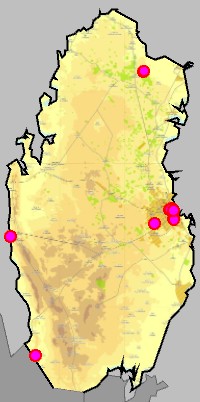 Phoenix dactylifera L.
Synonyms
Palma dactylifera, Palma major, Phoenix atlantica, Phoenix atlantidis, Phoenix chevalieri, Phoenix excelsior, Phoenix iberica
Common names
Date Palm, nakhal, nakheel
Phoenix dactylifera (date, or date palm) is a palm in the genus Phoenix, cultivated for its edible sweet fruit. Although its place of origin is unknown because of long cultivation, it probably originated from lands around Iraq . The species is widely cultivated and is reportedly naturalized in Australia, Spain, North Africa, the Canary Islands, Madeira, Cape Verde, the Sahel region of Africa, Mauritius, Réunion, Afghanistan, Pakistan, India, China (Fujian, Guangdong, Guangxi, Yunnan), Fiji, New Caledonia, the United States (California, Nevada, Florida), Puerto Rico, northern Mexico, El Salvador, the Leeward Islands, the Cayman Islands, and the Dominican Republic.[+]
Links
Outside links
How the web page was created
Acknowledgements
QNHG (Qatar Natural History Group) and associated people, for a possibility to participate in their field excursions and to learn about local nature.