Home Page > Picture Archives > Flora of Qatar > Myrtaceae > Eucalyptus camaldulensis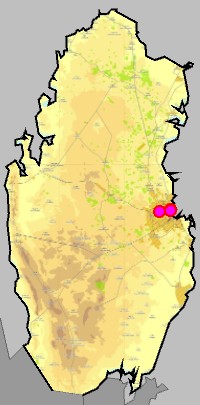 Eucalyptus camaldulensis Dehnh.
Synonyms
Eucalyptus acuminata, Eucalyptus rostrata, Eucalyptus subulata, Eucalyptus tereticornis
Common names
Kaffur, River Red gum
The River Red gum (Eucalyptus camaldulensis) is a tree of the genus Eucalyptus. It is one of around 800 in the genus. It is a plantation species in many parts of the world, but is native to Australia, where it is widespread, especially beside inland water courses. Oddly, it is named for a private estate garden near the Camaldoli monastery near Naples (L'Hortus Camaldulensis di Napoli), from where the first specimen came to be described. Material from this tree was used by Frederick Dehnhardt, Chief Gardener at the Botanic Gardens in Naples, to describe this species in 1832.[+]
Links
Outside links
How the web page was created
Acknowledgements
QNHG (Qatar Natural History Group) and associated people, for a possibility to participate in their field excursions and to learn about local nature.