Home Page > Picture Archives > Flora of Qatar > Poaceae > Cenchrus ciliaris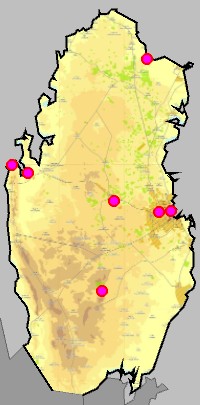 Cenchrus ciliaris L.
Synonyms
Cenchrus anjana, Cenchrus anjania, Cenchrus bulbosus, Cenchrus glaucus, Cenchrus longifolius, Cenchrus melanostachyus, Cenchrus mutabilis, Cenchrus rufescens, Pennisetum cenchroides, Pennisetum ciliare, Pennisetum distylum, Pennisetum incomptum, Pennisetum longifolium, Pennisetum oxyphyllum, Pennisetum pachycladum, Pennisetum panormitanum, Pennisetum petraeum, Pennisetum polycladum, Pennisetum rangei, Pennisetum rufescens, Pennisetum teneriffae
Common names
African foxtail grass, buffelgrass, darab, sabat
Cenchrus ciliaris (buffelgrass or African foxtail grass; syn. Pennisetum ciliare (L.) Link) is a species of grass native to most of Africa, southern Asia (east to India), southern Iran, and the extreme south of Europe (Sicily).[+]
Links
Outside links
How the web page was created
Acknowledgements
QNHG (Qatar Natural History Group) and associated people, for a possibility to participate in their field excursions and to learn about local nature.