Home Page > Picture Archives > Flora of Qatar > Apocynaceae > Calotropis procera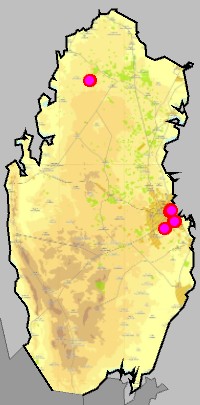 Calotropis procera
Common names
Asclepias procera, ashkhar, Giant Milkweed, mudar, osher, Sodom's Apple, stabragh, ushaar, ushar
My notes
Found only in Doha and in one place in desert west from Al-Ghuwayriyah (north-western Qatar).
Calotropis procera (known by the common names apple of Sodom, Sodom apple, mudar, or osher or stabragh) is a species of flowering plant in the dogbane family, Apocynaceae, that is native to North Africa, Tropical Africa, Western Asia, South Asia, and Indochina. It is commonly known as apple of Sodom, a name derived from the Hebrew Tapuah Sdom. The green globes are hollow but the flesh contains a toxic milky sap that is extremely bitter and turns into a gluey coating resistant to soap.
Links
Outside links
How the web page was created
Acknowledgements
QNHG (Qatar Natural History Group) and associated people, for a possibility to participate in their field excursions and to learn about local nature.