Home Page > Picture Archives > Flora of Qatar > Boraginaceae > Arnebia hispidissima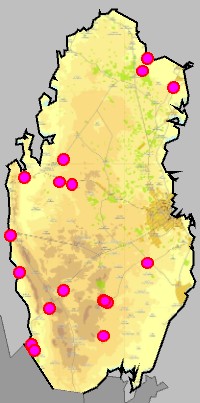 Arnebia hispidissima (Lehm.) DC.
Synonyms
Anchusa asperrima, Anchusa hispidissima, Arnebia asperrima, Arnebia lutea, Arnebiola migiurtina, Dioclea hispidissima, Echiochilon hispidissimum, Echioides asperrimum, Lithospermum hispidissimum, Lithospermum vestitum, Lithospermum villosum, Rhytispermum villosum, Strobila hispidissima, Toxostigma luteum
Common names
Arabian primrose, hasheshat al arnab, kahal, melleiH
My notes
Difficult to distinguish it from Arnebia decumbens.
Links
Outside links
How the web page was created
Acknowledgements
QNHG (Qatar Natural History Group) and associated people, for a possibility to participate in their field excursions and to learn about local nature.