Home Page > Picture Archives > Flora of Qatar > Fabaceae > Alhagi maurorum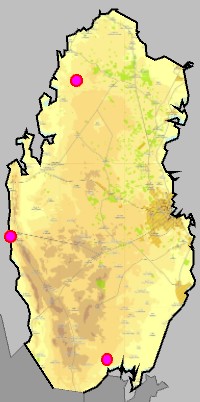 Alhagi maurorum Medik.
Synonyms
Alhagi camelorum, Alhagi kirghisorum, Alhagi persarum, Alhagi pseudalhagi, Hedysarum alhagi, Hedysarum pseudalhagi
Common names
Aagoal, aaqool, Camel Thorn, camelthorn-bush, Verblyuzhia Kolyuchka
Alhagi maurorum is a species of legume commonly known, variously, as camelthorn, camelthorn-bush, Caspian manna, and Persian mannaplant. This shrub is native to the region extending from the Mediterranean to Russia, but has been introduced to many other areas of the world, including Australia, southern Africa, and the western United States. The perennial plant grows from a massive rhizome system which may extend over six feet into the ground. New shoots can appear over 20 feet from the parent plant. Above the ground, the plant rarely reaches four feet in height. It is a heavily branched, gray-green thicket with long spines along the branches. It bears small, bright pink to maroon pea flowers and small legume pods, which are brown or reddish and constricted between the seeds. The seeds are mottled brown beans.
Links
Outside links
How the web page was created
Acknowledgements
QNHG (Qatar Natural History Group) and associated people, for a possibility to participate in their field excursions and to learn about local nature.