Home Page > Picture Archives > Flora of Qatar > Poaceae > Aeluropus littoralis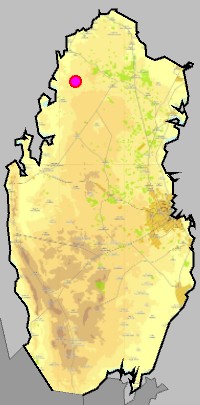 Aeluropus littoralis (Gouan) Parl.
Synonyms
Aeluropus hirsutus, Aeluropus intermedius, Aeluropus korshinskyi, Aeluropus laevis, Aeluropus micrantherus, Aeluropus pungens, Aeluropus sinensis, Agrostis pungens, Calotheca littoralis, Chamaedactylis maritima, Dactylis distichophylla, Dactylis littoralis, Dactylis maritima, Festuca littoralis, Koeleria littoralis, Melica littoralis, Poa littoralis, Poa pungens, Triticum supinum
Common names
Ikrish, Indian walnut
My notes
Likely to be the same as Aeluropus lagopoides.
Mat of Indian walnut (Aeluropus littoralis) in a silty depression in Al Nuaman (Naim tribe, Nuaimiya) near Zubara. Northern Qatar,
March 28, 2015
Ash Shamal, Qatar
Salt tolerant gras Aeluropus littoralis(?) taken from salt marsh near Jebel Fuwairit. Northern Qatar,
June 20, 2015
Salt tolerant gras Aeluropus littoralis(?) taken from a silty depression near Al Nuaman (Numan) in north-western Qatar,
September 12, 2015
Links
Outside links
How the web page was created
Acknowledgements
QNHG (Qatar Natural History Group) and associated people, for a possibility to participate in their field excursions and to learn about local nature.