Home Page > Picture Archives > Flora of Qatar > Fabaceae > Acacia ehrenbergiana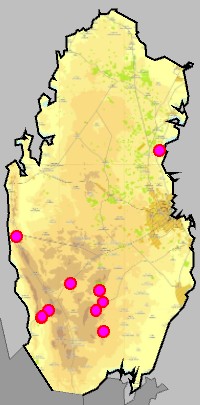 Acacia ehrenbergiana Hayne
Synonyms
Acacia flava
Common names
Sallam
Acacia ehrenbergiana is a species of drought-resistant bush or small tree found in the Sahara, northern Sahel, East Africa and Arabia. It is commonly known as salam, or as tamat in the Tuareg language.
Links
Outside links
How the web page was created
Acknowledgements
QNHG (Qatar Natural History Group) and associated people, for a possibility to participate in their field excursions and to learn about local nature.